Surface Wellhead
OMS offers conventional and compact wellhead system, both suitable for services on an onshore and offshore platform. Our surface wellhead system is designed to meet or exceed API Specification 6A requirements.
Conventional Wellhead
Utilise a cost-effective and reliable wellhead system in a variety of drilling and completion applications with OMS Conventional Surface Wellhead System. The usage of standard designs and components offers the interchangeability and flexibility for a wide range of applications and service conditions.
We offer conventional wellheads that cater to:
Working Pressure up to 20,000 Psi (138 MPa)
Temperature up to 450° F (232° C)
Dual completion
Elastomeric sealing
Full metal-to-metal seal completion for severe and harsh environment
ESP well completion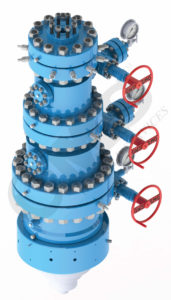 Compact Wellhead
Our Compact Wellhead System is designed to provide multi-stage wellhead solutions that can accommodate a wide range of casing programs, working pressures, and customer-specific drilling and completions requirements.
We offer compact wellheads that cater to:
Working Pressures of up to 15,000 Psi (103,5 MPa)
Fluid and gas-tight sealings
Complete range of material class, temperature rating, and PSL requirements of API 6A
Premium elastomer materials that are capable to withstand Rapid Gas Decompression (RGD) as per NORSOK M-710
Running and retrieval tools designed to meet API 6A Annex L requirement
Emergency equipment that includes a full range of slip-type hangers and packoff assemblies
Quick make-up connections (MBQ connectors) that are compatible with API 16A Hub
Christmas Trees
Allow us to manage a complete configuration of Christmas trees ranging from Gate Valve, Hydraulic Actuator Gate Valve, Stack Valve Xmas Tree and Block Valve Xmas Tree for both onshore and offshore platform. At OMS, our Xmas Trees are reliable, field-proven, low maintenance and easy to use for field services.
Gate Valve
OMS Gate Valves are designed and manufactured to meet the demanding high-pressure-high-temperature (HPHT) requirement of upstream drilling and production.
We offer gate valves that cater to:
Various sizes from 1-13/16" to 9" bore
Working pressures of up to 15,000 Psi (103,5 MPa)
All API 6A material classes, temperature ratings and product specification level (PSL) 1 through 4
Individual stacked valves or solid block tree arrangements
Fully compatible OMS-HA hydraulic actuators
Fire safe designs that meet API Spec 6FA and 6FC
Performances that exceed API 6A PR Appendix F test and OMS 360-cycles endurance test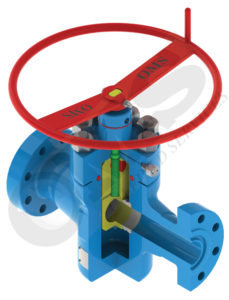 Hydraulic Actuator Gate Valve
OMS-HA and OMS-HAW Hydraulic Actuators are designed to be reliable and robust enough to handle severe and harsh environments.
We offer actuator gate valves that cater to:
Fail-safe applications
Various sizes of OMS-100 manual gate valves with full interchangeability
Gas tight and metal-to-metal backseats
API 6A PR2F Annex F Test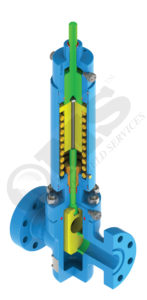 Stack Valve Christmas Tree
OMS Stack Valve Xmas Trees are designed and manufactured to meet and exceed API Specifications. Our stacked valve configurations are available for use in critical conditions such as acidification, high temperature steam injection, testing, fracturing, water injection, and more.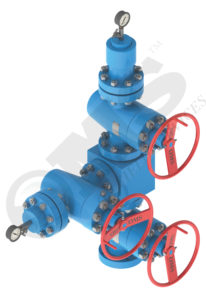 Block Valve Christmas Tree
Reduce installation time, conserve space and minimise risks of leak paths with OMS Block Valve Xmas Trees that are designed to meet and exceed API specifications.