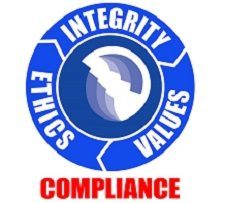 Compliance Month 2020
Despite the ongoing rage and disruption from the Covid-19 pandemic, compliance remains an important and essential pillar for OMS. This is especially the case when OMS operates in a variety of situations in the global environment, from straightforward ones to those that are very varied and complex, under different laws and regulations in different countries. This is further compounded by the Covid-19 pandemic, resulting in various evolving and dynamic situations across the world. Nevertheless, regardless of the difficulty and complexity of the situation that we may encounter, we must remind ourselves to conduct every business transaction above board with integrity and in full compliance with the laws of the host country where we are operating.
On 1st September 2020, the CEO of OMS, Mr. How Meng Hock, together with guest speakers from the Legal Counsel of Sumitomo Corporation Asia & Oceania and Partner/Representatives from Christopher & Lee Ong, connected virtually and gave an engaging opening session on the different topics, anchored on the theme of "Breaking the Chain of Corruption" to OMS employees. 

At the end of the launch, Mr How reiterated the following: "This is not just a one-month event but an ongoing compliance journey that we must always continue to work on – so as to protect both the employees and the company."